Hahnemuhle Toned Wc Books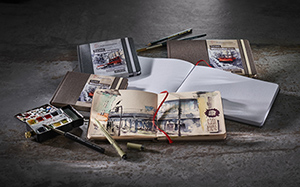 Inspired by Urban Sketchers, but perfect for everyone! Hahnemühle's Toned Watercolour Books contain 60 pages (30 sheets) of the finest high-quality, classically textured watercolour paper in a handy, portable format! The gorgeous toned paper creates a natural background, allowing the focus to be on your art and the motif, while letting the lightest colours to pop in new ways. The toned pages also minimize the sun's reflective glare, allowing for relaxed sketching outside.
Made of 200gsm acid-free and age-resistant watercolour paper with a finely grained surface on both sides. The sizing allows the colours to be lifted easily, and masking fluids and tape can be removed without residue.