Mungyo Gallery Soft Pastels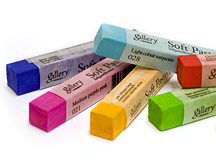 Mungyo Gallery Series Artists' Fine Soft Pastels are made from the finest and softest raw materials available. The bright opaque colours blend well, are highly pigmented, and have an excellent lightfast rating.

The square shape is easy to hold and allows for a full range of strokes. The corners are great for more detailed work, and the flat sides are perfect for shading! A velvety texture and smooth lay-down make for excellent overlays, blending, and gradation.

Each square pastel is individually wrapped in paper. These high-end, fade-resistant pastels are artist-grade and perfect for professionals, but at a budget-conscious price! Available in 70 colours and in sets.