Old Holland Claessens Canvases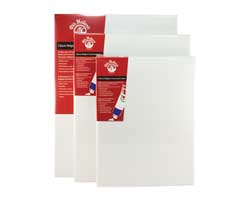 An Old Holland Claessens canvas is made exclusively from natural flax, the raw material from which linen is created. The materials are grown, sorted, and processed with the greatest care. These are truly natural products, with small differences in their colour, composition, and feel leading to a beautifully unique end product.
Features Claessens medium to fine texture oil primed Belgian Linen hand stretched and back stapled to preserve the clean edges for frame-less presentation. A subtle rounded edge complements the professional quality of these stretched linens.
The perfect stretched linen when you just want the best!
Old Holland Claessens canvases are suitable for oil painting.