Palomino Blackwing Pencils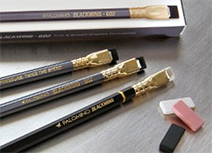 Claimed by many to be the best writing utensil in the world, Blackwing pencils are famous for the quality of graphite, iconic shape, and replaceable eraser. Its roots go back to the 1930's when the 602 model was first introduced by Eberhard Faber. In 1998, after several corporate acquisitions, it was discontinued, but not forgotten. In fact, fans began paying as much as $40 on eBay for a single Blackwing pencil.
Palomino founder Charles Berolzheimer used the company's unique supply relationships to re-introduce Blackwing pencils in 2010 featuring California genuine incense-cedar and premium Japanese graphite. The pencils has drawn rave reviews from users and national media attention.