Prismacolor Premier Pencils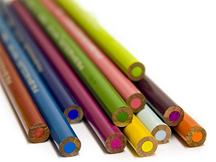 Prismacolor Premier Coloured Pencils have thick cores of colour made from high-grade prigments for rich colour saturation and lightfastness that last long to bring bold statements to life. The soft leads allow colours to lie down smoothly. They won't scratch and are superior for blending and shading. Pencils are vivid and intense in one stroke and subtle and soft in the next, making them perfect for any project, big or small. Smooth coverage and a wide array of colours to choose from make it easy to find a soft spot for these premium pencils. Available individually or in sets.
Derwent Coloursoft Pencils are the softest of coloured pencils in a strong and vibrant range of new colours. The velvety softness of the core releases rich, dense colour at a stroke and is perfect for mixing and blending. Despite its soft texture, Coloursoft sharpens to a fine point and works equally well for detailed illustrations or bold contemporary still life drawings and portraiture.