Rembrandt Oil Colours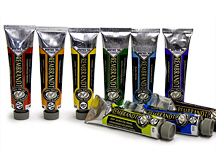 Rembrandt Artists' Oil Colours are manufactured to exacting professional quality standards in Apeldoorn, Holland. They respond to the brush with a buttery feel, and have a noticeable brilliance and colour intensity rarely seen anywhere in the world.
Rembrandt Oils are highly durable and are produced with the highest colour strength possible, using valuable, costly, pure pigments. The pigments are ground to extreme fineness in a binder consisting of the purest linseed or safflower seed oil, resulting in an oil paint whose texture is exceptionally smooth, creamy, and even.
Available in 40ml (1.35oz) and 150ml (5oz) tubes.