Sakura Gelly Roll Pens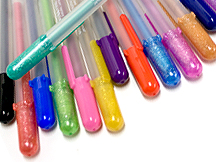 Gelly Roll, the original gel ink rollerball pen, has a medium point for individuals seeking a bolder line.
Its ultra-smooth line is very consistent. All pens write with a 0.3 mm thick line, except metallic colors which have a 0.4 mm line. This thicker line width is perfect to ensure fax transmittal, or to emphasize your message.
Once Gelly Roll ink is dry, it is permanent, waterproof, and chemically resistant.