Tommy Art Mineral Paints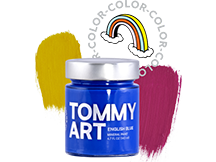 Premium mineral paints provide excellent coverage, lightfastness, and porosity on almost any surface! Tommy Art mineral paint does not require a primer in order to adhere effectively to any surface. For best results, make sure the surface is oil and grease free.
4.7 fl oz. (140 mL) Jar.
Made in Italy.