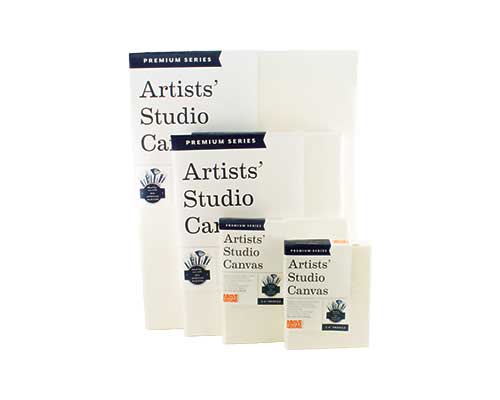 Above Ground Premium Stretched Canvas / 3/4"d - 9"x12"
For those looking for a superior quality canvas, the Above Ground Premium Artists' Canvas is a perfect choice, suitable to be used with oil, acrylic, and alkyd colours in all applications and techniques. Made of 100% natural heavy-weight cotton, triple-coated with acrylic primer, and with acid-free sizing. Tightly stretched over sturdy, kiln-dried professional pine wood stretched bars. Squared, blanket-fold corners mean easy re-stretching if desired, and the back is gallery-wrapped and stapled. Suitable for hanging with or without framing. Grey fabric weight is 10oz.( 305gsm). Post-primed weight is 14oz. (450gsm).
Part Number: AGSC912
102
Availability
Product Selection will vary by location.
Professional-quality

Heavy-weight, 100% natural cotton canvas

Triple-Coated with Acrylic primer

3/4" Profile

Acid-Free Sizing

Kiln-Dried Pine Stretcher Bars

Made in India.

| | |
| --- | --- |
| Part No./SKU | AGSC912 |
| Regular Retail Price | $8.99 |
| U/M | / EA |
| Price | $7.64 |
| Product PDF: | |
| Extra Details: | |