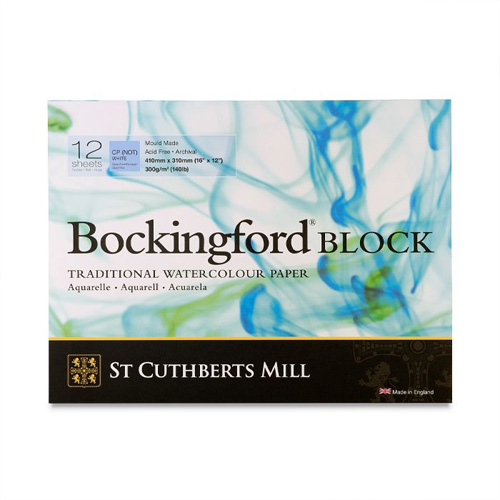 Bockingford Cold Pressed Watercolour Block - 140lb - 12" x 16"
Bockingford® is a beautiful English watercolour paper, traditionally made on a cylinder mould machine at St Cuthberts Mill. This is a high quality paper made using pure materials to archival standards.
Part Number: T46930001011E
3
Availability
Product Selection will vary by location.
12 Sheets | 140lb | 12 x 16 inches

Bockingford paper is designed for use with watercolour, but also works well as an excellent multi-media sheet. This paper is internally sized, has a neutral pH, and is buffered with calcium carbonate. It comes in a variety of weights, but only in a cold pressed surface. This paper has no deckle edges.

The surface of this paper is quite hard, and resists scrubbing, scraping, lifting, and correcting. This is an excellent paper for any situation where an economical choice is necessary without a great sacrifice in quality.

| | |
| --- | --- |
| Part No./SKU | T46930001011E |
| U/M | / EA |
| Price | $38.99 |
| Product PDF: | |
| Extra Details: | |
You may also be interested in: