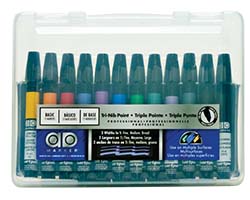 Chartpak Ad Marker Set of 12 Basic
Created in 1974, AD Marker was one of many in the long line of solvent based markers used for advertising, fashion and conceptual illustration from the 1950s - 1980s. The brilliant colored, transparent marker strokes are a classic feature in illustration and are still the top of their class for today's Artists and Designers.
Part Number: AD12SET
Chartpak's Ad markers blend, transfer, and are permanent on a number of porous and non-porous surfaces. The xylene based formula renders beautifully blended strokes and can be used with the blender to make dreamy watercolour-like effects.

| | |
| --- | --- |
| Part No./SKU | AD12SET |
| U/M | / ST |
| Price | $63.99 |
| Product PDF: | |
| Extra Details: | |