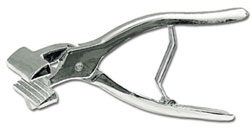 Chrome Canvas Pliers
Part Number: A15031
6
Availability
Product Selection will vary by location.
Chrome Canvas Pliers

Canvas Pliers are an invaluable aid for the artist who likes to stretch his or her own canvases. The levering action allows for tighter stretching with less stress and strain on the hands. These chrome metal pliers are an economy choice; they have spring action handles and non-slip jaws. They measure 2 3/8" across the jaws and 8" long overall.

| | |
| --- | --- |
| Part No./SKU | A15031 |
| U/M | / EA |
| Price | $40.49 |
| Product PDF: | |
| Extra Details: | |