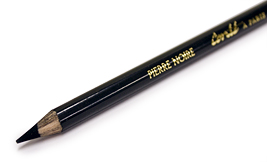 Conte à Paris Pierre Noire Pencil Black HB
Conté à Paris Pierre Noire Pencils have a soft, black lead with that is dense, deep, indelible, and matt. Recommended for life drawing, landscapes, and laying rapid sketches. Works great on all types of supports such as sketch pads, craft paper, linen canvas, etc. With a sharpened lead, you can achieve lively, detailed drawings. With a softened tip, gestures are more spontaneous and free.

Measures approximately 7" long × 0.33" diameter (17.7cm x 0.85cm).
Part Number: 2272
Conte à Paris
Pierre Noire Pencil
Black HB
| | |
| --- | --- |
| Part No./SKU | 2272 |
| U/M | / EA |
| Price | $3.49 |
| Product PDF: | |
| Extra Details: | |