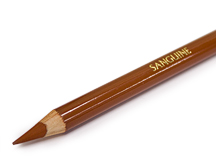 Conte à Paris Round Sketching Pencil Sanguine
The colour of the Conté à Paris Sanguine Pencil is a deep 'rust'. The colour is transparent with a sharpened lead and when lightly drawn, the Sanguine pencil lets the texture of paper show through. With a softer tip, the colour's opacity can be increased with pressure. Recommended for life drawing, particularly the body, as the colour recalls that of skin when blended with white.

Measures approximately 7" long × 0.33" diameter (17.7cm x 0.85cm).
Part Number: 2273
Conte à Paris
Round Sketching Pencil
Sanguine
| | |
| --- | --- |
| Part No./SKU | 2273 |
| U/M | / EA |
| Price | $3.49 |
| Product PDF: | |
| Extra Details: | |