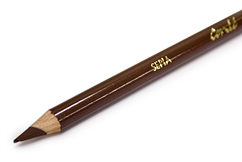 Conte à Paris Round Sketching Pencil Sepia
The colour of the Conté à Paris Sepia Pencil is reminiscent of Burnt Umber. This pencil shades easily. With a sharpened lead, you can achieve an accurate and delicate finish. With a half-worn lead, the finish becomes more opaque as the pressure exerted on the pencil increases. Recommended for rough sketches, life drawing, portraits, landscapes, etc.

Measures approximately 7" long × 0.33" diameter (17.7cm x 0.85cm).
Part Number: 2274
Conte à Paris
Round Sketching Pencil
Sepia
| | |
| --- | --- |
| Part No./SKU | 2274 |
| U/M | / EA |
| Price | $3.49 |
| Product PDF: | |
| Extra Details: | |