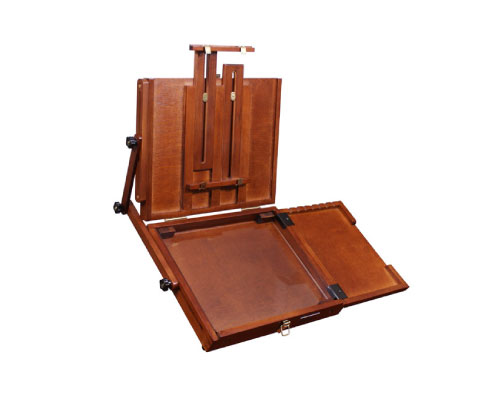 Craftech Sienna Pochade Box – Medium
Net Weight: 4.4 lbs

The pochade boxes are built with strong finger joint construction using, poplar, maple, and Baltic birch components. Finished with a beautiful cherry stain and lacquer finish.

The medium pochade box has a palette area of 10 in. x 12 in. and a maximum canvas height of 17 in.

Great luxe gift idea!
Part Number: PB0910
Craftech's Sienna plein air pochade boxes are an easel and a palette in one. It comes with a removable tempered glass palette ideal for oils and acrylics, a handy brush tray that stores on the back of the lid with magnets. The tray is ideal for holding wet brushes, palette knives, and palette cups. It simply attaches to the right side of the box for easy access during use.

Size: 12 3/4in. x 10 1/4in. x 2 3/4in.

Great luxe gift idea!
| | |
| --- | --- |
| Part No./SKU | PB0910 |
| U/M | / EA |
| Price | $239.99 |
| Product PDF: | |
| Extra Details: | |