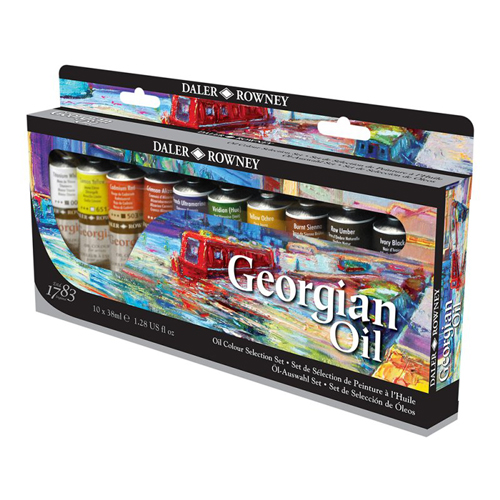 Daler Rowney Georgian Oil Selection Set of 10x38ml
Daler Rowney Georgian Oil Colours are highly reliable and provide the heavy bodied texture required for endless creative painting techniques. Georgian Oil Colours are fully intermixable and have a high pigment content, yet they are more affordable than Artistsí Oil Colours. Daler Rowney Oil Colour sets contain a well balanced spectrum of colours ideal for a wide range of subjects and painting styles.

Set contains:
Titanium White, Lemon Yellow (Hue), Cadmium Red (Hue), Crimson Alizarin, French Ultramarine, Viridian (Hue), Yellow Ochre, Burnt Sienna, Raw Umber, and Ivory Black.
Part Number: 111900650
Daler Rowney Georgian Oil Colour
Selection Set
10 x 38ml (1.28oz) Tubes
| | |
| --- | --- |
| Part No./SKU | 111900650 |
| U/M | / ST |
| Price | $64.99 |
| Product PDF: | |
| Extra Details: | |