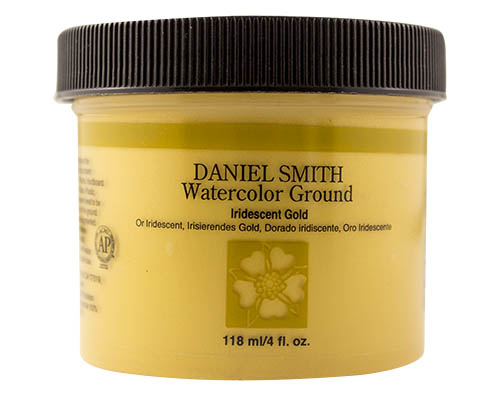 Daniel Smith Watercolor Ground – Iridescent Gold 4oz
For deepest gold, apply 2 to 3 thin coats of the Iridescent Gold Watercolor Ground. You can paint over an entire surface with the ground or only in areas that you wish to add iridescent gold effects. The watercolors will add a glaze of color when painted over the Iridescent Gold Ground modifying their color.

An excellent ground for watercolor on all surfaces. Use on absorbent surfaces such as canvas, paper, plaster, and hardboard. Or on non-absorbant surfaces such as glass, plastic, and metal. Thick brushable and heavily pigmented. Can be thinned up to 10% with water.
Part Number: 284055012
2
Availability
Product Selection will vary by location.
Daniel Smith Iridescent Gold Watercolor Ground adds a gorgeous luminous gold look when applied over a white surface. The semi-transparency allows the color, pattern, or texture of the surface to show slightly through the iridescent gold sheen. The color is buildable.
| | |
| --- | --- |
| Part No./SKU | 284055012 |
| U/M | / EA |
| Price | $19.49 |
| Product PDF: | |
| Extra Details: | |