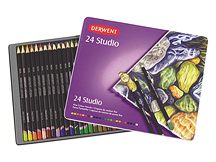 Derwent Studio Colour Pencils Set of 24
Made in England, these high-quality pencils were designed specifically for professional artists and designers. Derwent Studio Coloured Pencil leads are harder and drier than some brands, yet the brilliant, lightfast colours still blend easily! Each wooden barrel is easy to grip, as it is hexagonal instead of round, and is strikingly finished in matte black with a colour-coded end. These pencils are particularly suited to detailed illustration work, such as botanical studies, architectural drawing and graphic design. Pencils are pre-sharpened.

Set contains:
Lemon Cadmium, Deep Cadmium, Orange Chrome, Deep Vermilion, Rose Pink, Crimson Lake, Imperial Purple, Light Violet, Spectrum Blue, Prussian Blue, Kingfisher Blue, Mineral Green, Emerald Green, Grass Green, May Green, Olive Green, Brown Ochre, Golden Brown, Copper Beech, Terracotta, Ivory Black, Blue Grey, Gunmetal, and Chinese White.
Part Number: 32197
7
Availability
Product Selection will vary by location.
Derwent Studio Colour Pencils
Set of 24
| | |
| --- | --- |
| Part No./SKU | 32197 |
| U/M | / EA |
| Price | $69.99 |
| Product PDF: | |
| Extra Details: | |