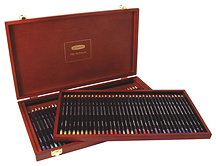 Derwent Studio Colour Pencils Wooden Set of 72
Part Number: 32199
3
Availability
Product Selection will vary by location.
Derwent Studio Colour Pencils
Wooden Set of 72

Want to get stuck into the detail? Then Derwent Studio pencils are just the range for you! You will find they have the same colour strip as the Derwent Artists range but are a lot finer, perfect for more detailed work, particularly illustrations. The barrel is hexagonal rather than round, like the Artists pencils, so you can get a really good grip when getting down to the tricky bits! The complete range of 72 Studio pencils presented in a beautiful wooden box.
| | |
| --- | --- |
| Part No./SKU | 32199 |
| U/M | / UN |
| Price | $317.99 |
| Product PDF: | |
| Extra Details: | |