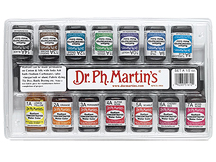 Dr. Martinís Synchromatic Student Set of 14x0.5oz
These are completely transparent watercolour DYES. They are for Hand colouring and retouching film, slides and photographic papers. Can be used with brush, pen or airbrush, and need no shaking. They are not light fast.

Set contains:
-14 x 0.5oz (15ml) bottles in the following colours: Lemon Yellow, Cadmium Yellow, Yellow Ochre, Burnt Sienna, Van Dyke Brown, Ultra Marine, Nile Green, Vermillion, Magenta, Purple, Cadmium Orange, Black, Rose Carthame, and Cerulean Blue.
Part Number: 400008
Dr. PH Martinís
Synchromatic Transparent Water Color
Student Set
14 x 0.5oz (15ml) Bottles
| | |
| --- | --- |
| Part No./SKU | 400008 |
| U/M | / EA |
| Price | $94.99 |
| Product PDF: | |
| Extra Details: | |