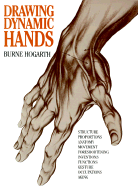 Drawing Dynamic Hands
Part Number: 0823013685
Drawing Dynamic Hands

Author: Burne Hogarth
Publisher: Watson-Guptill

Master the difficulty of drawing hands with this book. Depict a figure's character through the shape, size, and condition of their hands. Convey moods and emotions through the almost infinite positions that hands can assume.
This very comprehensive book uses a revolutionary system for visualizing hands in many positions and conditions. It shows with extreme detail how muscles, tendons, knuckles, etc. are affected by the many possible motions, angles, and positions of hands. The book includes over 300 illustrations.
| | |
| --- | --- |
| Part No./SKU | 0823013685 |
| U/M | / EA |
| Price | $26.99 |
| Product PDF: | |
| Extra Details: | |