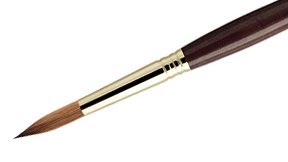 Escoda Kolinsky-Tajmyr SH Brush Round #2
Considered the elite hair for watercolour, Escoda selects only the best Kolinsky male sable hair for this brush. This hair comes from the Tajmyr region in very northern Siberia. Points perfectly and has an extraordinary capacity to retain liquids. Tufts are beautifully shaped of fine and evenly sized hairs, tightly packed at the ferrule edge.

Escoda's curing process results in a snappy core that gives the brush extra resilience. The short burgundy lacquered wood handle carries a triple crimped nickel-plated golden brass ferrule.
Part Number: 1212-2
6
Availability
Product Selection will vary by location.
Escoda Reserva Kolinsky-Tajmyr Sable
Short Handle Brush
Round #2
| | |
| --- | --- |
| Part No./SKU | 1212-2 |
| U/M | / EA |
| Price | $32.69 |
| Product PDF: | |
| Extra Details: | |