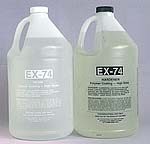 EX-74 Polymer Topcoat with UVLS 2 Gallon Kit
EX-74 is an extremely clear, tough, high gloss surface coating formulated to produce a deep glass like appearance in a single layer on a sealed surface. Two or more layers are often applied for added depth and protection. EX-74 has been formulated for improved UV resistance to reduce yellowing and surface degradation from UV exposure. EX-74 has an extended "open time" which allows up to 5 minutes in the mixing container at 70º F and up to one hour working time on the surface being coated.

EX-74 is waterproof, heat & alcohol resistant.

Part Number: 23500
EX-74 Polymer Top Coat
with UVLS
2 Gallon Kit
| | |
| --- | --- |
| Part No./SKU | 23500 |
| U/M | / EA |
| Price | $294.49 |
| Product PDF: | |
| Extra Details: | |