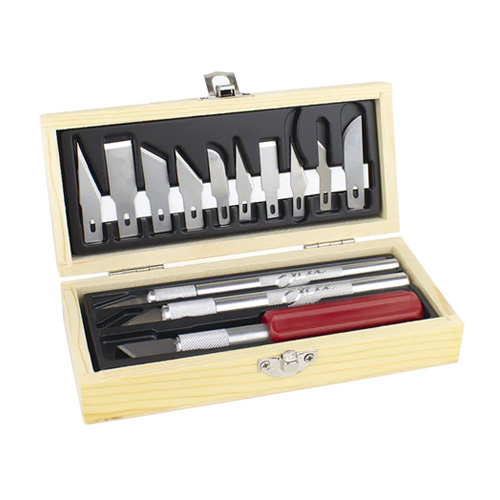 Excel Hobby Knife Set
Part Number: EX44382
CRAFT HOBBY KNIFE SET: The most effective blades on the market, this hobby crafting knife set is a perfect gift idea for hobbyists, artists, designers, or those with an interest in arts and crafts applications, wood carving, scrapbooking, model kits, 3D print cleaning and more!

13 BLADES INCLUDED: The workhorse of any professional art supplies kit, this comprehensive set includes an array of Excel K1, K2, and K5 knives with 13 assorted blades ideal for precision cutting, trimming, and stripping of wood, cardboard, paper, plastic, cloth, film, foam, and more.

4 JAW CHUCK: This basic knife craft set includes knife handles that house a 4 jaw aluminum chuck for more secure blade positioning and hold than your standard light duty knife; with a snug fitting, twist lock shatter resistant safety cap to protect the blade during storage.
| | |
| --- | --- |
| Part No./SKU | EX44382 |
| U/M | / EA |
| Price | $49.99 |
| Product PDF: | |
| Extra Details: | |