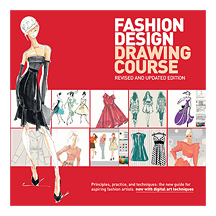 Fashion Design Drawing Course, 2nd Edition
Principles, practice, and technique: the new guide for aspiring fashion artists – now with digital art techniques. This instructional textbook has become a standard for classroom use in fashion design courses at major schools. Twenty-four step-by-step exercises in drawing in colour and black-and-white media. Separate sections coach students in getting started, and on understanding figure proportions, planning and designing garments, and creating and assessing flat specification drawings.

New in this edition is a section that provides detailed instruction in digital art techniques.

160pp. 8-3/4x8-3/4. 300 colour illustrations.
Part Number: 9780764147302
Fashion Design Drawing Course, 2nd Edition
Principles, Practice, and Techniques: The New Guide for Aspiring Fashion Artists—Now with Digital Art Techniques
2nd Edition

Author: Caroline Tatham, Wynn Armstrong, and Jemi Armstrong; Consultant editor, Julian Seaman
Publisher: Barron's
| | |
| --- | --- |
| Part No./SKU | 9780764147302 |
| U/M | / EA |
| Price | $33.99 |
| Product PDF: | |
| Extra Details: | |