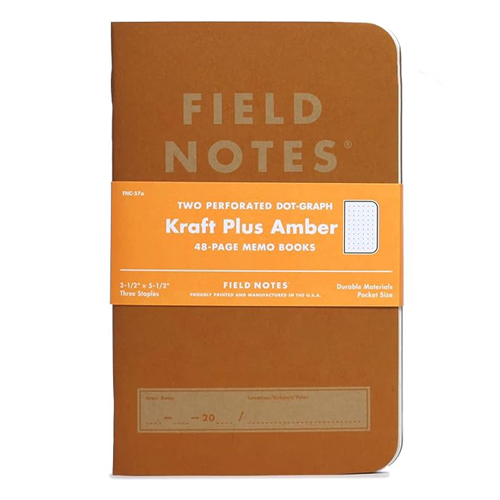 Field Notes - Dot-Graph Memo Books - 2-pack - Amber - Kraft Plus Edition
3½" × 5½" - Dot-Graph Paper - Perforated
Part Number: FNC-57A
12
Availability
Product Selection will vary by location.
The covers are the result of the interaction of a bright, transparent ink with the lovely, rich tone of the French Paper Co.'s fibrous "Packing Brown Wrap" paper we've been using for years on our "Original Kraft" Memo Books. It's ink and paper as opposed to ink on paper.

2-Packs are available with burnt-orange (Amber), dusty blue (Aqua) and sage-like green (Moss) covers, with a space at the bottom to index the books by date and subject.

The insides feature Domtar's splendid, slightly off-white, Cougar Natural 60#T stock with a subtle dot-graph. The pages are micro-perforated, so your notes and lists are secure, but easy to remove when needed.
| | |
| --- | --- |
| Part No./SKU | FNC-57A |
| U/M | / EA |
| Price | $15.99 |
| Product PDF: | |
| Extra Details: | |
You may also be interested in: