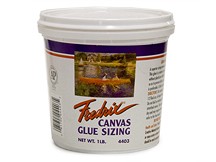 Fredrix Canvas Glue Sizing 1lb
A superior sizing material used to prepare raw canvas for priming with an oil ground. This glue is a natural product that possesses the qualities of strength and flexibility without plasticizer additives. The sizing should penetrate into the fibers of the canvas so as to prevent direct contact of the oil priming with the fabric. A thin application is preferable. A thick coating will obscure the texture and may cause cracking.

Directions:
Stir contents (1lb) into 6 quarts (5.7L) of water or a ratio of 1oz (30ml) of glue to 12oz (355ml) of water. Heat mixture in a double boiler until thoroughly dissolved. Do not boil or overheat. Apply as a liquid using a brush or palette knife to a tightly stretched canvas. The canvas will tighten further as it dries, but will relax when fully dry and may require restretching before sanding and priming.
Part Number: 4403.
Fredrix Canvas Glue Sizing
1lb (0.45kg)
Genuine Animal Hide Glue in Granular Form
| | |
| --- | --- |
| Part No./SKU | 4403. |
| U/M | / EA |
| Price | $39.99 |
| Product PDF: | |
| Extra Details: | |