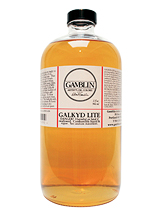 Gamblin Galkyd Lite Oil Medium 32oz
Galkyd Lite is different from Galkyd because it is formulated to have a lower viscosity. The viscosity of Galkyd Lite is very similar to that of a traditional damar/refined linseed oil/turpentine painting medium. Galkyd Lite is also ready to use. Because of its lower viscosity, Galkyd Lite will leave brush strokes in thicker layers. Glazes made with Galkyd Lite look slightly less glossy than those made with traditional mediums or Galkyd.

Like Galkyd, Galkyd Lite is formulated to thin oil colours and maintain strong flexible paint films. Besides painters who prefer a lighter painting medium, landscape painters and others who enjoy painting outdoors will appreciate the longer working time of Galkyd Lite (approximately 3 hours). Thin layers will be ready to paint over within 24 hours. Thins with odourless mineral spirits.
Part Number: 02032
Gamblin Oil Colors
Galkyd Lite Oil Painting Medium
32oz (946ml) Bottle
| | |
| --- | --- |
| Part No./SKU | 02032 |
| U/M | / EA |
| Price | $61.99 |
| Product PDF: | |
| Extra Details: | |