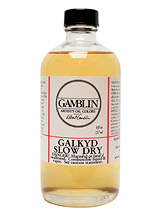 Gamblin Galkyd Slow Dry Oil Medium 8oz
Galkyd Slow Dry is formulated to have strength and flexibility and to keep the surface of oil paintings open for approximately 3 days. This is a good choice for painters who blend or work wet into wet. Use 1 part Galkyd Slow Dry and 1 part oil colours to paint wet into wet for at least a day. DO NOT DILUTE.
Part Number: 02508
1
Availability
Product Selection will vary by location.
Gamblin Oil Colors
Galkyd Slow Dry Oil Painting Medium
8oz (237ml) Bottle
| | |
| --- | --- |
| Part No./SKU | 02508 |
| U/M | / EA |
| Price | $21.99 |
| Product PDF: | |
| Extra Details: | |