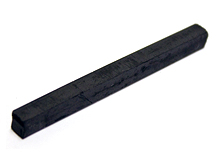 Generalís Compressed Charcoal 4B Medium
Draw and sketch with Generalís Compressed Charcoal Sticks. These sticks are most conveniently used by breaking into smaller pieces. Flat edge may be used for broad strokes. Sticks can also be sanded to a fine point for detailed work. Drawing may be blended with a soft point, such as a paper stub, tortillon, or chamois. Erase with extra soft white vinyl erasers or kneaded erasers.

Individual sticks measure 3" × 1/4" × 1/4" (76mm × 6mm × 6mm).
Part Number: 957-4B
Generalís
Extra Smooth Compressed Charcoal
4B Medium
| | |
| --- | --- |
| Part No./SKU | 957-4B |
| U/M | / EA |
| Price | $1.69 |
| Product PDF: | |
| Extra Details: | |