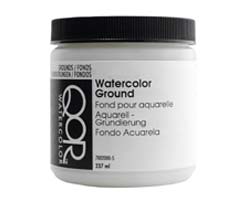 Golden QoR Watercolour Ground 237mL
Part Number: 7002000-5
4
Availability
Product Selection will vary by location.
Golden QoR Watercolour Ground - 237mL Jar

A fluid acrylic primer that creates a porous surface similar to hot press paper on many different materials, including canvas and panel, Watercolor Ground dries to an absorbent, lightfast and flexible surface that withstands repeated lifting and scrubbing. Suitable for a full range of watercolor techniques, including wash and staining effects, it can be used to return stained areas to an absorbent white surface.
| | |
| --- | --- |
| Part No./SKU | 7002000-5 |
| U/M | / EA |
| Price | $20.49 |
| Product PDF: | |
| Extra Details: | |