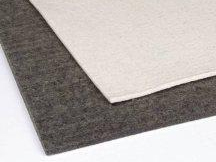 Jack Richeson 11" Press Catcher (White)
We recommend that you use a Pusher and a Catcher along with the printing press. The Catcher [this product] is a dense, white felt blanket. Place it directly on your printing paper to catch any excess bleed off.

The Pusher [Part #: 695108] is a dense, grey felt blanket. Place the pusher directly on top of the Catcher. The Pusher helps to pull the print surface through the roller and equalizes pressure and strain on the roller.
Part Number: 695109
Jack Richeson
Press Catcher
11" (27.9cm)
| | |
| --- | --- |
| Part No./SKU | 695109 |
| U/M | / EA |
| Price | $19.49 |
| Product PDF: | |
| Extra Details: | |