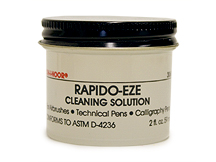 Koh-I-Noor Rapido-Eze Cleaning Solution 2oz
For airbrushes, technical pens, and calligraphy pens.

For cleaning technical pens, fill empty pen with Rapido-Eze as you would with ink. Let soak for a few minutes, empty pen and flush several times with luke-warm water. To clean other recommended items, soak in cleaner for a few minutes and rinse.
Part Number: 3068
Koh-I-Noor
Rapido-Eze Cleaning Solution
2oz (59ml) Jar
| | |
| --- | --- |
| Part No./SKU | 3068 |
| U/M | / EA |
| Price | $7.99 |
| Product PDF: | |
| Extra Details: | |