Above Ground Art Supplies - LePage 5 Minute Epoxy .8oz/25ml Syringe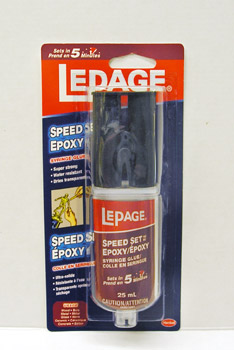 LePage 5 Minute Epoxy .8oz/25ml Syringe
• A two-part system consisting of epoxy resin and hardener that sets in 5 minutes.
• Bonds metal, glass, ceramics, wood, masonry, many rigid plastics, rubber, fiberglass composite, china, stone, marble, painted surfaces and more.
• Ideal for repairs to appliances, lamps, toys, machinery, loose tiles; filling surface cracks and holes in metal castings, concrete, countersunk holes etc.
• Can also be used to seal electrical components against moisture, chemicals and vibration.
• Solvent-free; non-flammable.