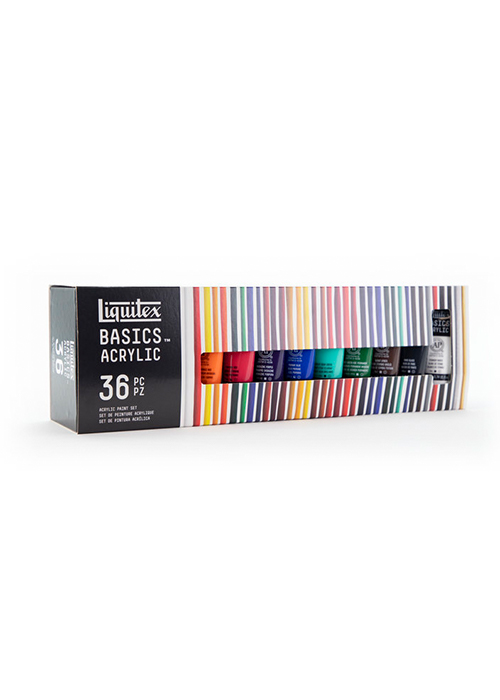 Liquitex Basics Acrylics - Set of 36 x 22ml
Liquitex Basics acrylics offer a wide range of colours with great coverage, outstanding colour brilliance, and exceptional brushability. Liquitex Basics acrylics can be used for a variety of techniques from watercolour, airbrush and printmaking to thick applications that simulate oil paint. Permanent, water resistance and flexible when dry.

Thin with water and/or Liquitex Acrylic Mediums. Keep brushes wet. Clean with soap and water. Do not mix with oils and turpentine.

Set contains:
-36 x 22ml (0.74oz) tubes of Liquitex Basics Acrylic paint in the following colours: deep violet, quinacridone magenta, alizarin crimson hue permanent, primary red, cadmium red deep hue, naphthol crimson, cadmium red medium hue, cadmium red light hue, cadmium orange hue, red oxide, burnt sienna, burnt umber, raw umber, raw sienna, yellow oxide, cadmium yellow deep hue, cadmium yellow medium hue, cadmium yellow light hue, primary yellow, light green permanent, hookers green permanent, deep green permanent, phthalocyanine green, bright aqua green, cerulean blue hue, cobalt blue hue, primary blue, phthalocyanine blue green shade, ultramarine blue, dioxazine purple, neutral gray value 5, mars black, ivory black, titanium white, gold, and silver.
Part Number: 101036
Liquitex Basics Acrylic Colour is developed for students and artists that need dependable quality at an economical price. Each colour is uniquely formulated to bring out the maximum brilliance and clarity of the individual pigment. Liquitex Basics is a heavy body acrylic with a buttery consistency for easy blending. It retains peaks and brush marks and all colours dry with the same satin finish, eliminating surface glare. A Intermixable with all Liquitex Professional Acrylic Colours and Mediums. Ideal for learning colour theory and colour mixing. All colours hold the AP seal from ACMI and are safe for educational use.
| | |
| --- | --- |
| Part No./SKU | 101036 |
| U/M | / EA |
| Price | $78.99 |
| Product PDF: | |
| Extra Details: | |