Above Ground Art Supplies - Liquitex Professional Acrylic Ink – Pouring Technique Set - Primary Colours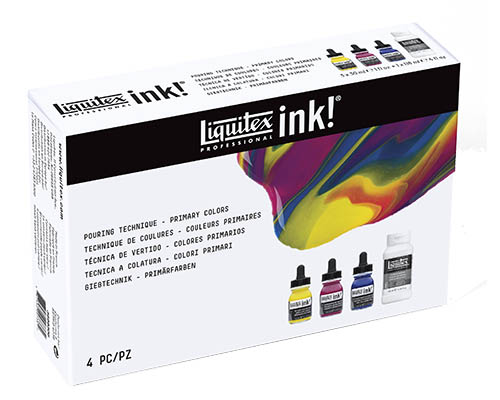 Liquitex Professional Acrylic Ink – Pouring Technique Set - Primary Colours
Contains 3 1-oz/30ml containers of ink (Yellow Medium Azo, Quinacridone Magenta, and Phthalocyanine Blue (Green Shade)) and one 4-oz/118ml Professional Pouring Medium.
Ink is super fluid; highly pigmented, extremely fluid with a satin finish.
Pouring Medium creates even puddles, poured sheets and flowing applications of color. Both the ink and the pouring medium are lightweight, non-toxic and dry to a water-resistant, non-yellowing surface.Each ink is made with super-fine artist-grade pigments captured in a cutting-edge acrylic emulsion.