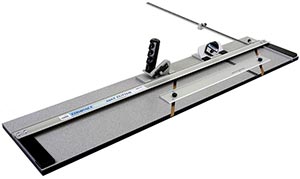 Logan #301-1 Compact Mat Cutter
The Logan 301-1 Compact Classic is a versatile, portable 32" capacity mat cutter that provides affordable and professional results. The capacity of mat board between the hinges accommodates up to 32" but being an open end machine, the length of a cut can be infinite by cutting and sliding the material through the length of the machine. Includes parallel mat guide for setting border widths from 3/4" to 4-1/2", spring loaded serrated guide rail, push style #302-1 bevel cutting head with start and stop indicator, 500 mat knife for downsizing mat board and foam board, built-in carry handle in box, five extra blades and a fully illustrated matting instruction guide. The 301-1 Compact Classic is ideal for low volume at home framers. Uses Logan 270 blades.
Part Number: 301-1
3
Availability
Product Selection will vary by location.
Logan 301-1 Compact Classic
Mat Cutter
| | |
| --- | --- |
| Part No./SKU | 301-1 |
| U/M | / EA |
| Price | $219.99 |
| Product PDF: | |
| Extra Details: | |