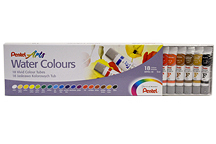 Pentel Water Colours Set of 18x5ml
Features 18 vibrant colours in easy to use tubes that blend easily to create subtle hues. These paints dry evenly, resist fading, and will not crack or flake. Ideal for glazing without turning 'muddy'. Plastic tubes allow every last drop of paint to be used. Great to use in conjunction with oil pastels and colouring pencils. Once paint dries on palette, they can be remoistened with water for easy reusing.

Set contains:
White, Naples Yellow, Yellow, Lemon Yellow, Yellow Green, Deep Green, Viridian, Sky Blue, Cobalt Blue, Prussian Blue, Ultramarine, Purple, Red, Vermilion, Brown, Vandyke Brown, Yellow Ochre, and Black.

Part Number: WFRS-18
Pentel Arts
Water Colours
18 x 5ml (0.17oz) Tubes

| | |
| --- | --- |
| Part No./SKU | WFRS-18 |
| U/M | / ST |
| Price | $17.49 |
| Product PDF: | |
| Extra Details: | |