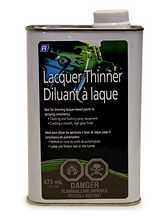 Recochem Lacquer Thinner 16oz
Recochem's Lacquer Thinner is used primarily for thinning lacquer based paints. The thinner should be added to the lacquer gradually so that a minimum amount of thinner is used. Only enough to make the paint flow freely should be added. Too much thinner will result in running and dripping of the lacquer and will prevent a smooth, high gloss finish.

Lacquer Thinner is also ideal for cleaning spray guns and spraying equipment used for lacquer paints.
Part Number: 85013351
2
Availability
Product Selection will vary by location.
Recochem
Lacquer Thinner
16oz (473ml) Can

| | |
| --- | --- |
| Part No./SKU | 85013351 |
| U/M | / EA |
| Price | $28.99 |
| Product PDF: | |
| Extra Details: | |