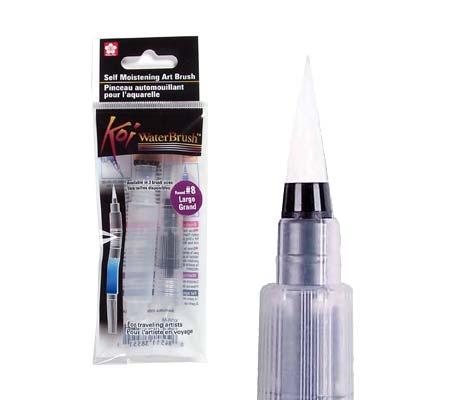 Sakura Koi Water Brush - 4mL Tank - Large Round Brush
Polypropylene, transparent barrel and nib holder section.
Nylon fibers for brush tip.
4-7/8" overall brush length.
By screwing barrel apart, the brush collapses into two, 2-7/8" components.
Meets ACMI non-toxicity standards (AP seal).
Not recommended for use on fabrics intended to be washed, on food service or ceramics that are washed.
Part Number: 38552
Koi Water Brushes have a barrel for water storage attached to a flexible brush tip for controlled blending, shading, and highlighting. Koi Water Brushes are great for water storage and application when you are on the go and need a controlled water source.
| | |
| --- | --- |
| Part No./SKU | 38552 |
| U/M | / EA |
| Price | $8.89 |
| Product PDF: | Product Datasheet |
| Extra Details: | |