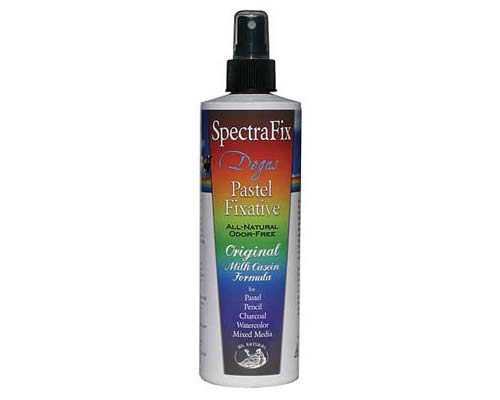 SpectraFix Degas Spray Fixative – 12oz
May be used on all paper, sueded or gritted paper (not LaCarte), Yupo, primed and unprimed canvas, wood panels, unglazed ceramic, stone, leather, glass, etc.. Can be used to stiffen and protect fabric art, but not on washable clothing.

Use with Soft and Oil Pastel, Colored Pencil, Graphite, Charcoal, or in combination with Watercolor, Gouache, Casein, Ink, Wax paints, or to layer other media into Encaustic. Use under Oil or Acrylic paints to prevent preliminary drawings from smudging. Should not be used as a final top coat over acrylic or oil paint.
Part Number: SF31270
SpectraFix Non-toxic Fixative is made with casein (purified milk protein), water and alcohol (based on an antique recipe used by French Impressionist painter, Edgar Degas). Milk Casein seals and protects your artwork while leaving your colors brilliant, with no toxic fumes or odors! Spray dries quickly and allows deep layering as well as providing much-needed traction on thickly-layered media. Combines well with mixed media, and dries to a hard, water-resistant finish.
| | |
| --- | --- |
| Part No./SKU | SF31270 |
| U/M | / EA |
| Price | $23.99 |
| Product PDF: | |
| Extra Details: | |