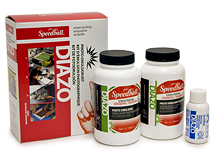 Speedball Diazo Photo Emulsion Kit
Photo Emulsion is one of the most exciting methods of screen printing because it offers the widest range of possibilities. It makes it possible to print fine line drawings, various hand and commercial lettering techniques, as well as photographic half-tone positives.

This package contains 6.6oz (195.1ml) of Diazo Photo Emulsion, 1oz (29.6ml) of Diazo Photo Sensitizer, 8oz (236.5ml) of Diazo Photo Emulsion Remover and detailed instructions.

Printing screen, film positive or transparency film, and light source not included.
Part Number: 4559
Speedball
Diazo Photo Emulsion Kit
| | |
| --- | --- |
| Part No./SKU | 4559 |
| U/M | / EA |
| Price | $40.49 |
| Product PDF: | |
| Extra Details: | |