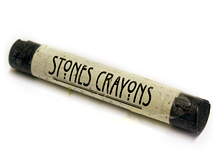 Stones Litho Crayon #5 Copal Hard
Stones Crayons are ultra smooth and offer very little drag while drawing. They lay down beautiful tones on either stones, plates, or paper. Insoluble in water, these crayons won't smear under gum and can save you processing steps! Sharpens easily into a fine point with a simple hand held pencil sharpener.

Approximately 3.5" (8.9cm) in length.
Part Number: 31250
9
Availability
Product Selection will vary by location.
Stones Crayons
Lithography Crayon #5
0.5" (1.3cm) Diameter
Copal Hard
| | |
| --- | --- |
| Part No./SKU | 31250 |
| U/M | / EA |
| Price | $6.49 |
| Product PDF: | |
| Extra Details: | |