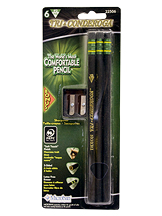 Triconderoga World's Most Comfortable Pencil HB Set of 6
These comfortable, 3-sided pencils are certified non-toxic. They feature a black graphite point for smooth, easy writing and a latex free eraser. The thicker diameter and unique "soft touch" finish make it more comfortable than a "normal" pencil.
Part Number: 22506
5
Availability
Product Selection will vary by location.
Triconderoga
World's Most Comfortable Graphite Pencil
#2 HB
Set of 6 + Sharpener
| | |
| --- | --- |
| Part No./SKU | 22506 |
| U/M | / EA |
| Price | $5.99 |
| Product PDF: | |
| Extra Details: | |