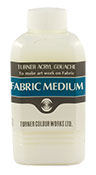 Turner Acryl Gouache Fabric Medium – 160mL
160mL
Made in Japan.
Part Number: AG160813
Water-based medium for art on fabrics with good flexibility, water resistance and weatherability after drying. Mix Fabric Medium and the paint with the ratio of 1:1 to 2:1 for good adhesion on fabrics. Dilute with a small amount of water for better brushability.
| | |
| --- | --- |
| Part No./SKU | AG160813 |
| U/M | / EA |
| Price | $14.99 |
| Product PDF: | |
| Extra Details: | |