Above Ground Art Supplies - Ultimate 3-in-1 Colour Tool Swatch Book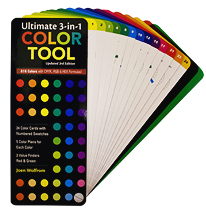 Ultimate 3-in-1 Colour Tool Swatch Book
Ultimate 3-in-1 Colour Tool
Swatch Book
Perfect colours every time! Itís as easy as 1, 2, 3! Just start with your desired colour card, choose one of the colour scheme options, then find the corresponding companion colour cards to create the perfect colour combination. Includes CMYK and RGB formulas, plus Hex numbers for website design.

Includes 24 colour cards + an in depth instruction guide. It is a handy, portable size for your studio or shopping. Colours are based on the Ives Colour Wheel.

Ideal for anyone who uses colour in their work such as quilters, sewers, needleworkers, artists & crafters, graphic & web designers, illustrators, architects, and interior designers.