Above Ground Art Supplies - Winsor & Newton Galeria Acrylic Mono Printing Zoom Workshop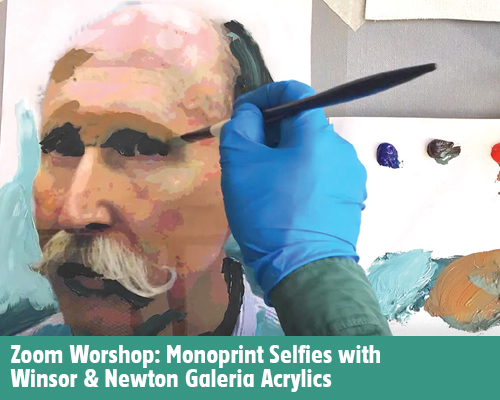 Winsor & Newton Galeria Acrylic Mono Printing Zoom Workshop
Friday October 23rd, 2-4PM EST
Join us for a fun, informative afternoon with artist Marta Kepka as she leads us through the process of making awesome mono-print selfies and portraits with Winsor & Newton Galeria Acrylics!
This monoprint workshop shows how to paint a 5x7" self-portrait using a selfie printout, and Winsor & Newton Galeria Acrylics.
The project is suitable for a range of people with different drawing skill levels because the selfie is painted onto plastic over the printout and can be an excellent springboard to experimentation into portraiture.


Each attendee will receive a supply package containing:
- 2 x Above Ground Brushes
- A sampling of Winsor & Newton Galeria Acrylic Paints (Yellow Ochre, Burnt Umber, & primary colours)
- 5x7 Winsor & Newton Watercolour Paper(3 Sheets)
- Their chosen selfie printed at 5x7"
- Clear film sheet

Each attendee will need:
- Titanium White Acrylic Paint
- Paper towels
- Water cup
- Palette
- Masking Tape

Attendees will also receive a special exclusive coupon for their purchase of Winsor & Newton Galeria Acyrlics, as well as the chance to win a Winsor & Newton Galeria Collection Box Set!

Please note: All workshops are non-refundable and final sale. Information and materials will be provided in advance of the workshop date - delivery or pick up (time permitting).

About Marta Kepka:
Marta Kepka is an artist working in central NJ. She examines social complexities and
the human experience through multi-media constructed environments both in two
and three dimensional work.
In the past several years, the artist has found solace exploring the natural
environments surrounding her home and studio. Through the collection of physical
specimens, photo documentation, memory exercises and field sketches - her
subsequent studio time is spent organizing and collaging these collections into visual
constructs.
With such a strong pull in our culture towards the quick, easy , polarized and often
deliberately over-saturated imagery - the artist is attempting to slow down time and
enjoy a more immersive and honest relationship with her surroundings and memory of
experience.
Her recent studio experiments explore veiled layers of print, color blocking, collage,
mono-printing and gestural mark making.
Her cross-disciplinary interests led her to earn her BFA alongside a Psychology minor
and Women's Studies collateral program. She undertook her MFA at Montclair State
University and has received several awards since for her work which have been
exhibited in New Jersey, Pennsylvania, New York, New Zealand and the United
Kingdom.
Alongside her studio practice; Marta works as a Director of Creative Services and
Production for a graphic design firm located in NJ, Adjunct Professor at MCC and
Brookdale College and TFAC artist for Winsor Newton and Liquitex. Her work and
writing can be found at www.martakepka.com.