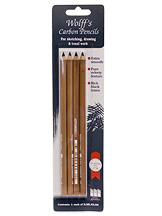 Wolff's Carbon Pencils Pack of 4
Only the finest quality materials are used in Wolff's Carbon Pencils to ensure pure velvety lines. Wolff's can be used in conjunction with graphite and charcoal pencils to create interesting and dramatic effects.

These pencils combine the best attributes of charcoal with those of graphite. They apply to the paper smoothly like graphite, while leaving a rich matt black line similar to charcoal. Precise line drawing and blending are effortless because Wolff's Carbon Pencils are consistent and void of hard spots. Use them in combination with charcoal and graphite to help add more texture and dimension to your drawings.
Part Number: 442159
Wolff's Carbon Pencils
Pack of 4
B, 2B, 4B, 6B
| | |
| --- | --- |
| Part No./SKU | 442159 |
| U/M | / EA |
| Price | $17.49 |
| Product PDF: | |
| Extra Details: | |