Derwent Studio Coloured Pencils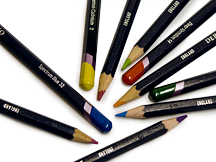 Made in England, these high-quality pencils were designed specifically for professional artists and designers. Derwent Studio Coloured Pencil leads are harder and drier than some brands, yet the brilliant, lightfast colours still blend easily! Each wooden barrel is easy to grip, hexagonal instead of round, and is strikingly finished in matte black with a colour-coded end. These pencils are particularly suited to detailed illustration work, such as botanical studies, architectural drawing and graphic design. Pencils are pre-sharpened. Sold individually or in sets.
Derwent Coloursoft Pencils are the softest of coloured pencils in a strong and vibrant range of new colours. The velvety softness of the core releases rich, dense colour at a stroke and is perfect for mixing and blending. Despite its soft texture, Coloursoft sharpens to a fine point and works equally well for detailed illustrations or bold contemporary still life drawings and portraiture.